Leicester, Harrison Road Methodist New Connexion Chapel and Lecture Hall, Leicestershire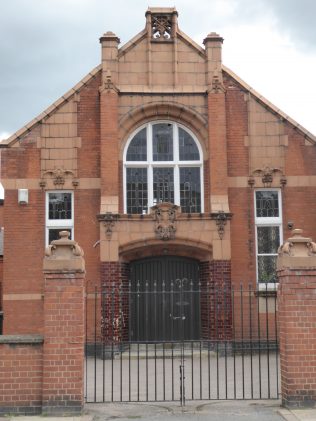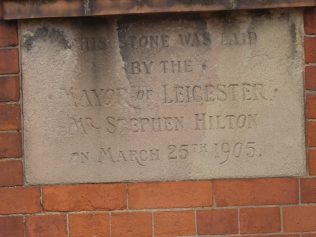 Harrison Road Methodist New Connexion Chapel was built in 1905 at a cost of £3021 plus £40 for the organ. In 1924 it seated 650. A school building was added in 1909. The premises were described in detail in 1940. The floor of the chapel measured 55 feet by 45 feet and seated 300. The galleries occupied 2022 square feet and accommodated a further 220. The lecture hall measured 55 feet by 26 feet and there were six vestries or classrooms. The chapel had seating for 520 in pews and there were two schoolrooms and six other rooms.
The contrast between the two main buildings is remarkable. The chapel in quite austere with little decoration and much of what there is seems out of place on a building such as this. As always much of the interest lies in the smaller details such as the iron work on the main entrance. The schoolroom is very different but once again there seems to be a conflict between the modern minimalism of the basic design and an impulse to add decorative features. The entrance is with its plain glazed brick and terra cotta structure and rather baroque embellishments.
An unusual feature of this chapel is the garden at the back. It has shrubberies, a lawn and a sitting area, all in a good state of maintenance, as are the flower beds at the front of the chapel. This is in marked contrast with the exceptionally uninformative notice board. The chapel continues to be used as a Methodist place of worship.
Sources
John Rylands Library University of Manchester, MAC Lawson: Returns of Accommodation provided by  Wesleyan Methodist Chapels and other Preaching Places, , 1891/610, 1901/623, 1911/588.
Leicestershire etc. Record Office N/M/179/750 UM special trust schedules, 1924
Methodist Accommodation returns, 1940
John Rylands Library University of Manchester DDPD1Methodist Accommodation returns, 1940/679
Site visit 15.9 2018