Bolton, Gilnow Road United Methodist Free Church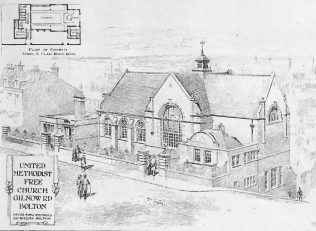 As can be seen from the illustration this chapel was built on a steep slope, with the Sunday School being on a lower floor, entered from down the side . The church was designed 400, and was constructed of red bricks and grey terracotta.
The building was designed in 1904 by Manchester and Bolton architects Potts, Son , and Hennings. Edward Potts (1839-1909) was from a family who had been founding members of the Wesleyan Methodist Association in Bury, and then being very much involved with the UMFC. Edward himself held many offices in the church, as well as designing over 200 cotton mills and many Methodist chapels.
By 1940 the church was believed to seat 314.
It would be helpful if anyone has further details of the history of this building, which seems to have been called Hanover. A photograph may be found here
Grid Ref: SD795090
References:
Statistical returns … as at July 1st 1940. Manchester: Methodist Church, Department of Chapel Affairs, 1947
The Building News Vol.87, 1904 pp577-578